When I first ventured into internet marketing as a solopreneur newbie in 2008, I was lost.  I did not have a mentor to guide me (until many years later). I did not know what was the best route to take.  So I tried all sorts of online businesses.  I was sucked into some scams. I learn the hard way through trials and errors.
After many years, I figured out the way.
Hi, my name is Sam choo.  I am a 6-figure a year internet marketing trainer and coach. I am 58 years old this year.  Since 2008,  I have been working at home as an internet solopreneur. I am a sole breadwinner supporting my family, my parents, and my sponsored kids.
Thanks to the internet and by the grace of God, I have been able to live a debt-free freedom lifestyle, working anytime, anywhere, with just a laptop, and earning 4 to 5 figure a month. My specialty is in making money online using little or no money methods.
My expertise is in tribe building, blogging and selling information products. I use simple methods that are not technically challenging, with little operating cost.
I am the founder of an amazingly active online community called the Singapore Internet Marketers Facebook group.
WHO IS SAM CHOO
If you do not know me, you might ask, 'Why should I listen to you?" Check me out through these links:
THE PROGRAM
Many newbies ask me common questions such as, "How do I get started?", "How do I make money online?".   You are not alone.  I used to ask the same questions too.
Now that I have figured out the way, I created a new learning and mentorship program.  This is the program I wished I had gotten when I first started.  This is the program that will support your learning and give you the guidance you need for you to succeed online.
My mission is to teach newbies about online businesses through my online membership program called "The Solopreneur"
WHO IS IT FOR
If you are a freelancer or someone who runs the business alone, this program is for you. If you are making a 4-figure a month or less, this program is suitable for you. If you aspire to be an online entrepreneur but you don't know where to start, this is for you too.
Once you sign up as a member, you will be added to a secret online forum.
Here's what you'll get as a member:
1. Mentorship with me
2. Sharing of my knowledge and experience.
3. Access to my contacts, my FB groups and job opportunities
#1:  MENTORSHIP
You have access to me online via Facebook Messenger any day, 30 days a month. Ask me any questions. I am online most of the time. You get a fast response. I am like your counselor.   Bounce ideas with me. Validate your plan. Tell me about your challenges. I will help you get unstuck so that you can move forward.
If I  see your mistakes, I will give you my honest feedback so that you can do better. We all have blind spots, so we need someone else to spot it.  We are constantly exposed to negative conditioning.  Did people look down on you and tell you that you won't make it?  You need a mentor who believes in what you can achieve, who can affirm your strength.  I will show you a  different perspective to your issues so you can exit from a tunnel vision to a world of possibilities.
#2:  SHARING OF KNOWLEDGE and EXPERIENCE
Knowledge is power.  I will be sharing about:
* Tips for newbies (simple actionable tips that you can implement)
* Business opportunities
* Job opportunities  (people often ask me for referral. You'll have the priority)
* The art of Persuasion.
* Copywriting
* Case studies.  Learn from other people's mistakes and success
*  Internet marketing for introverts
*  Success principles
*  New business biz models
*  My personal experience. Lessons that I learn.  What works and what didn't work.
These are the topics I have shared so far
Here are what you can learn from me:
* Conversation: Get inside my mind as I share my thinking process, my strategies and my best business ideas on how to make money online.
*Copywriting:  The ability to write words that sell is by far the most wonderful money-making skill you could ever hope to acquire…All life's problems can be solved with a good sales letter." You will learn how to craft sales letters that sell.  You will learn about Facebook copywriting using my 6 punch formula.
* Persuasion: Discover dangerously Powerful Persuasion secrets that will make people do anything for you!
*How to Build Your Coaching Business: Everyone has knowledge that people will pay for. Coaching is the no-cost and fastest way to create an income.  Learn how to sell your coaching service.
* How to Publish Your Book: Publish your e-books on Amazon Kindle Store and earn passive income. Write once, earn for life. This is the perfect business for writers, introverts and those who prefer to remain anonymous.
* Facebook Group  Marketing Secrets:  Build a tribe using a Facebook group and give members what they want. This is a simple no-cost business model that is easy to implement without the technical complexities.
* Facebook Marketing without using Ads: Most consumers live on Facebook.  You'll discover how to brand yourself and promote your business on Facebook without using paid ads
* How to Promote Your  Business like a Ninja:  You'll discover more than 100 ways to promote your business online. You'll never run out of ideas on how to market your products and service.
* Ways to Make Money with Little or No Money.
* How to Blog for Profits
* The Secret Vaults to Free Resources
* How to Sell with Love and Integrity
* Video Marketing
* Creating Viral Posts
* Storytelling
* and many more…
#3:  ACCESS TO MY CONTACTS
I have my network of friends. My friends often ask me to recommend service providers to them.  As a member, you have the priority.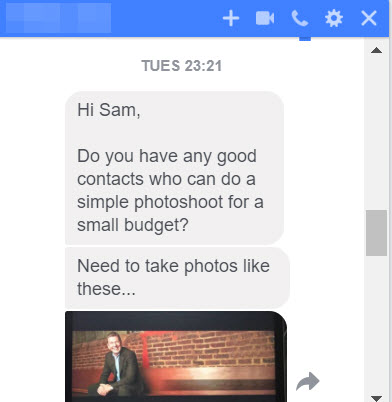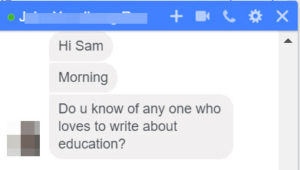 INVESTMENT. 
I want to make this learning and mentorship program as affordable as possible. Since this is an online program, I am able to reduce my operation cost and pass the saving to you.
Your investment is usd$97 a month, recurring.  You can cancel your membership at any time.
You will get:
knowledge on how to make money online.
personal mentoring from me
leverage on my network of influential contacts .
This is the place that gives you the knowledge and support you need to succeed in your online business. This is the program that I wish I had when I first started.  This is your passport to success.
Here is what some of  the participants said about the program:

Move forward with success with me or remain as you are.  The choice is yours.
I see you on the other side.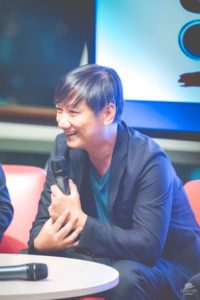 Sam Choo.   samchoo@gmail.com